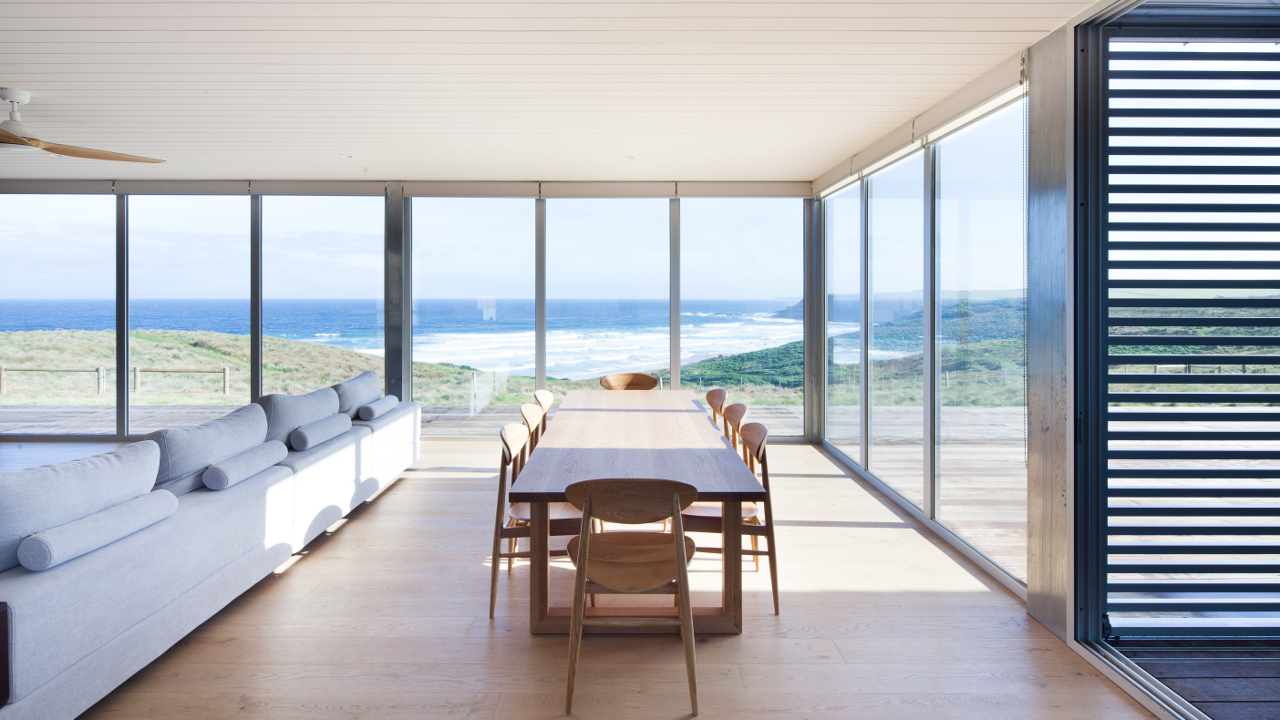 When looking to create a traditional, comforting or rustic feel in a living space, a warm tonal palette is your go-to. Warm colours are stimulating and social, which is why we use them more commonly in the most frequented rooms of our homes, such as our dining and living rooms. A cooler palette on the other hand, is more soothing and encourages quiet and concentration, hence why we are more likely to see these tones in more private spaces. Timber is a no-brainer when it comes to creating warmer palettes, not only is wood available in a myriad colours, but when you consider the stains and finishes available for raw timber, the options are limitless.
Oak
While timber is often laid on the floor or walls as a sea of neutral atop which brightly coloured doors, finishes or furnishings can feature, this doesn't always have to be the case. Oak, for example, with its unique textural and visual language, has been adding drama, depth and intrigue to design briefs for centuries. Oak is recognisable immediately by its distinct dark rays, visible regardless of stain or finish, and invokes an old-world sturdiness which works perfectly to anchor a warmer colour scheme. And despite its versatility of colour, there is no oak more dramatic and warm that a rich red oak. When paired with glass, light metals and neutral walls, a red oak feature such as bench top, or even a vast, interrupted expanse of flooring, can offer a contrasting aesthetic, somehow dramatic and subtle all at once, while achieving that warm palette that makes us feel comfortable and safe.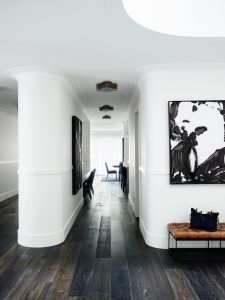 While it's walking a fine line, avoiding turning your home into a ski lodge or timber yard, creating a warm palette with more than one type of timber can be unrivalled in its beauty and elegance. By establishing a varied colour palette in the walls and floor, ensuring you chose warm undertones when selecting neutrals, you can then pull from these tones to select timbers which complement your colour palette. This can manifest itself in the form of an entirely timber feature wall made of pines, oaks and beech, or simple finishes like lighting fixtures and door handles. Ideally, you won't extend beyond three different types of timber to ensure balance is retained in your living space.
Other schemes
Timber doesn't need to be a deep, dark colour like red oak in order to create a warm colour palette within your home. A great way to achieve warmth with lighter woods is by going for an analogous colour scheme. Selecting a cooler toned timber, such as silver wattle or huon pine for a feature like large window frames, or a statement table, and choosing colours which appear next to them on the colour wheel to build a beautiful warm palette accented with wood. This is a great way to create not only a warm vibe, but also a colourful and fun living space. The silver of wattle has an inherent harmony with yellows and oranges and features in brass or solid coloured cushions will work together well.
Colour palettes are both intensely personal and a big commitment, however with the versatility of timber, particularly solid items of furniture or hardwood floorings which can be refinished if the mood strikes, building a warm and sociable living space using timber is easily achievable.